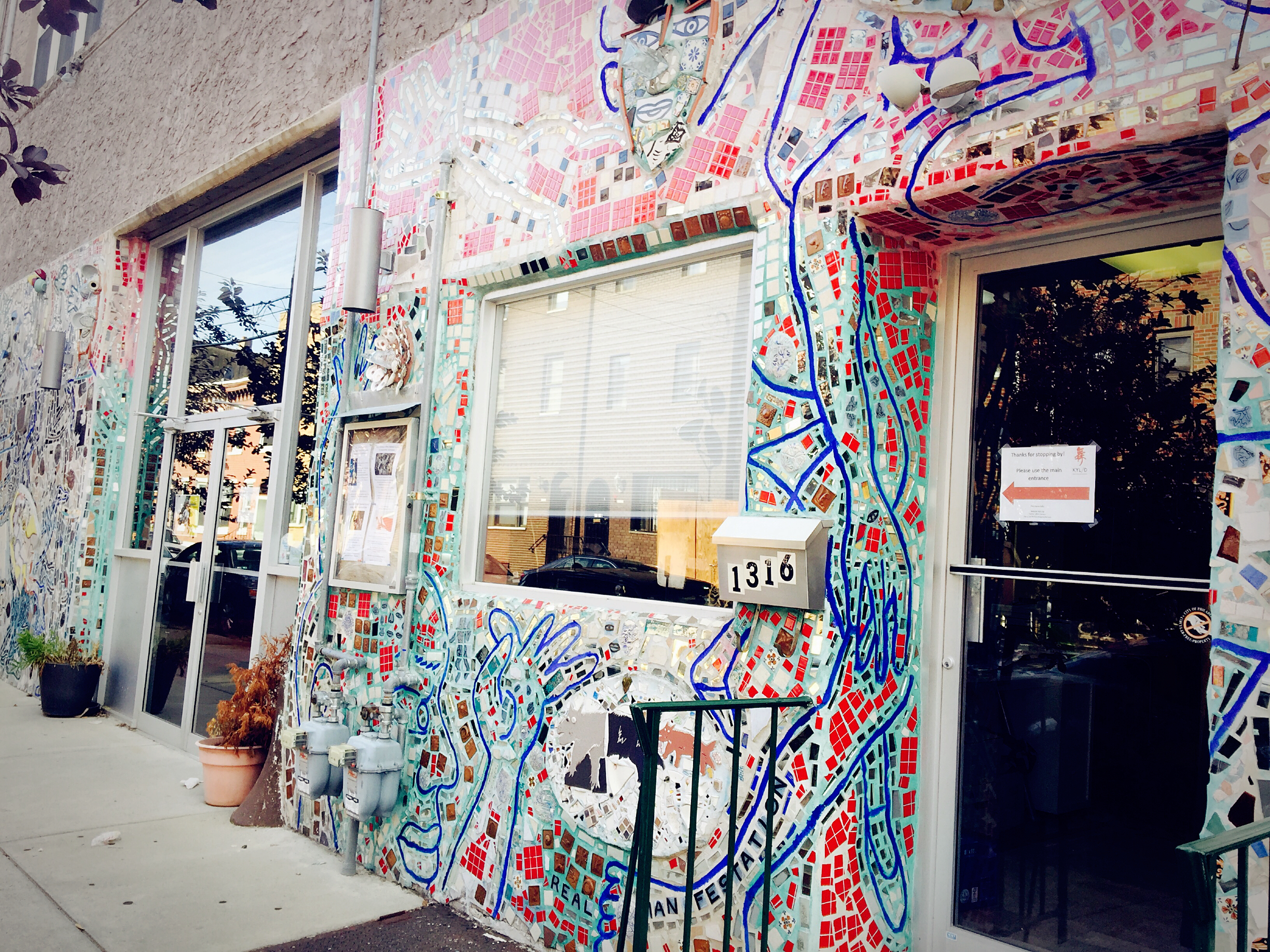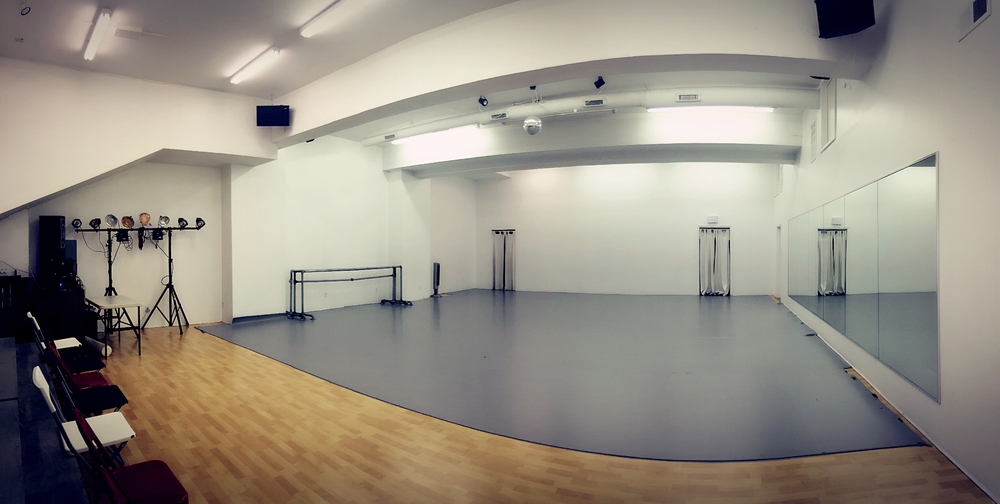 CHI Movement Arts Center (CHI MAC), is the home of Kun-Yang Lin/Dancers and offers a friendly, attractive, economical and professional space in South Philadelphia. Fully-sprung dance floor with grey or black marley, CHI MAC is fully air-conditioned and has approximately 1,500 square feet of dance-able space.
Space Availability: Please note- When there is a listing, which says "Rental" or it is a class listing, that means the space is NOT available during those times. You can click on each individual listing to see what time it ends.
Space Usage:
Permitted Usage - Rehearsals, Performances, Classes, Auditions, Showings/Showcases, Photo/film/video shoots, Recordings, Literary readings, Meetings.

No shoes, except sneakers, allowed. The studio has a marley floor. If you are interested in an extended rental (at least two full days), the marley can be removed to allow for the wood floor to be used.

Our space is not suitable for parties (birthdays, weddings, other celebrations, etc)

As a 501(c)(3) non-profit organization we are unable to have politically affiliated groups renting our space for partisan activities.

Please note: we prioritize long-term rentals over short-term or one time rentals.

You must be 18 or older to rent the space
Rent the Space:
Fill out the rental request form at the bottom of this page, or e-mail rentals@kyld.org

The rentals manager will provide a response within 24-48 hours.
ANNOUNCING: NEW ARTIST IN RESIDENCE PROGRAM!
KYL/D's Artist in Residence program provides dance and theater artists/organizations with highly subsidized rental rates and other perks to help cultivate their craft. Visit our ARTIST IN RESIDENCE PAGE for info on our current resident artists.
The Benefits:
Reduced hourly rehearsal rate when you commit to 8 hours a month for 3+ months (Starting at $12 per hour!)

Reduced performance packages, contact rentals@kyld.org for rental package info

Listing on our website: bio, upcoming events, link to personal website, etc.

Application fee waived to our quarterly InHale Performance Series

Option for individual artists to take all open company classes for FREE
Features/Equipment
Stage/Space Dimensions - 30 ft x 25 ft, with 14 ft ceiling

Stage Configuration - Black box

Flooring - Sprung wood, Black or Grey Marley laid

Space Features - Column-free, Air-conditioned, Heated, 3 Ballet Barres, Mirrors, Backstage space

Curtain available to cover the wall with mirrors

Seating Capacity - 45 folding chairs available, renter can bring additional chairs to have 75 seats total

Seating Arrangement - Flexible seating, there are risers that can be used to provide stadium seating. Riser Dimensions- Two medium risers that are 8' long, 4'1" wide, and 1'4" tall, two small risers that are 6'8" long, 3'1" wide, and 9" tall, and two small risers that are 6'8" long, 3'1" wide, and 6" tall.

Accessibility- ADA-compliant

Audience Services - Lobby. If a performance is being held, access to audience restroom will be made available.

Artist Amenities - Dressing rooms, Private restroom, WiFi

Audio Equipment - Sound system with auxiliary input

Furniture- 3 tables

Lighting Equipment - Fluorescent and Incandescent lighting permanently installed, two light trees connected to a light board (see photo above) and 4 floor lights
Booking Policies/Information
Our rates vary depending on a variety of factors, including the use of the space, date and time requested and whether you are an artist or non-profit organization. Generally rates range from $15 to $35 per hour, and we have flexible and economical rates for full-day uses, extended rentals, and performances.

Most rentals are hourly - check our class/rental calendar above to see when the space is not in use. Availability differs daily

All first time renters must visit the space before his/her/their first rental. E-mail rentals@kyld.org to schedule a meeting

If you wish to use the lighting equipment, you must use a technical director approved by KYL/D. Please e-mail: rentals@kyld.org for that list

Renter must provide all performance personnel, including box office/check-in person, technical director, etc.

For all rentals, except for Artist in Residence program, a staff member will open and close the space.

Light snacks are permitted in the lobby area, but food can not be served or eaten in the studio. NO ALCOHOL PERMITTED. Shoes must be taken off before entering the studio, with exceptions for certain classes.

Cancellation Policy - Depends on the nature and duration of the space reservation and use.

Booking Requirements - Depends on the nature and duration of the space reservation. Security Deposit may be required before rental use for performances.

Insurance Requirements - Special Event Insurance required for performances, adult or child waivers must be completed for classes/workshops and rehearsals.

Payment Types - Cash, Check, or Credit Card
Rental Request Form
The rentals manager will provide a response within 24-48 hours
Directions
CHI Movement Arts Center is located between Wharton and Reed on 9th St., one block south of the famous Pat's and Geno's Cheesesteaks. The front of the building is a mosaic (look at the photo gallery above for reference)
Public Transit from Center City: Take the Broad Street Line South to the Ellsworth/Federal stop. Walk five blocks east to 9th St. and 3-4 blocks south to the CHI Movement Arts Center.
Driving from Center City: Take Broad St. south to Dickinson. Make a left on Dickinson. Take Dickinson to 9th St. Make a left on 9th St. and CHI Movement Arts Center is on the left side of the street, immediately north of Reed.
Parking: There is on street parking on 9th St. and several commercial lots on Passyunk Ave. Most streets on the block are residential parking with no time limit; however, some areas are 2 hour parking only. If you have questions on where to park, please contact us: 267-687-3739